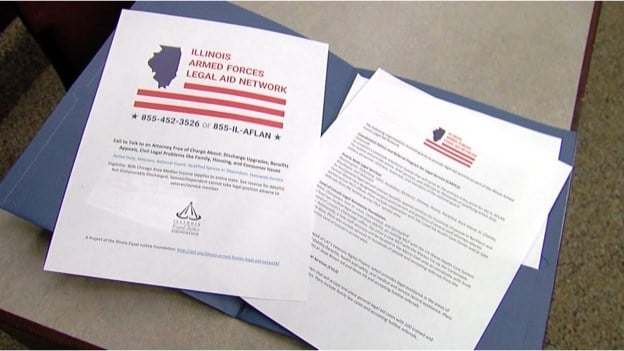 CARBONDALE — Lloyd Karmeier, Chief Justice of the Illinois Supreme Court, says navigating the legal system can be hard, and making sure that those who served in the military got the help they need was a priority.
"They helped us. Now we need to help them," he said. "We need to make sure they're not left outside of justice's gates when they have problems."
Karmeier was among those at the unveiling of the Illinois Armed Forces Legal Aid Network, known as AFLAN.
It will provide a hot line for legal services to active military, veterans, and their families.
"For our veterans and active duty service members this program is a great resource where they can call up, speak to an attorney, and have the majority of their legal problems solved right there over the phone."
Zach Zarnow is the Program Director for the Illinois Equal Justice Foundation which runs AFLAN.
He says the new program will give the nearly one million active military veterans in Illinois and their families free legal help with military issues like discharge upgrades and benefits, as well as with civil matters, including family, housing and consumer issues.
The hot line is open from 9:00 am until 4:30 pm Monday through Friday, connecting callers with lawyers who provide assistance and can refer them to local agencies for further assistance.
Most of the program's legal assistance will be provided by lawyers volunteering their time.
"The fact that so many people are doing it, especially for the veterans, it's really heartwarming and makes me proud of our profession," said Karmeier.
During a testing period,over the last few months, the program helped about 500 military personnel.
Organizers hope many more will take advantage of the program.
Active military personnel, veterans and their families looking for legal help can call AFLAN at 855-452-3526.